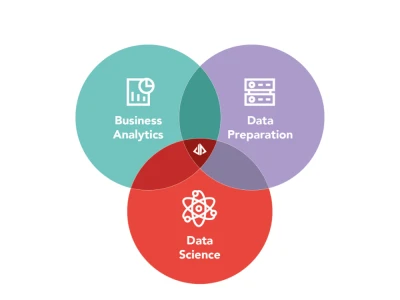 What is Decision Intelligence?
For those who are new to the term "Decision Intelligence", it is simply the ability to take intelligent action based on your information. To make these decisions you must be able to bring together data through the use of Analytics and Business Intelligence (ABI) and then embed Machine Learning into the process.
The Pyramid platform provides the ability to do just this through Data Preparation, Business Analytics and Data Science. It is a complete platform that uses a web browser interface and provides unfettered access to your business information needs.
An Introduction to Pyramid Analytics
At the heart of the Pyramid platform lies the PYRANA direct query engine. This engine is driven by the Pyramid Query language PQL. The engine generates both SQL and MDX statements dependant on the underlying data source as well as handling query sharding and multi-threaded query processing.
PYRANA is one of the key differentiators of the Pyramid Platform, ensuring high performance against large datasets including the handling of complex calculation logic.
Above the PYRANA engine are several toolsets that allow for data preparation, advanced calculations, data science, data exploration, visualisation, presentation and collaboration. The diagram below gives an overview of the Pyramid Analytics Platform: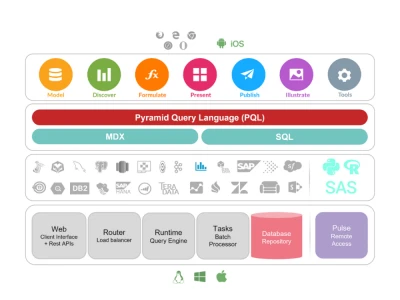 Pyramid is a truly end-to-end platform
Pyramid has a strong set of augmented intelligence capabilities making it a truly end-to-end platform. The inbuilt modules are fully integrated allowing users to access models for data science and analysis needs, enhance those models with complex calculations then present and collaborate with others within their organisation.
Addressing Real-world Challenges
Whilst working with our clients we frequently see the same challenges. Pyramid Analytics resolves many of these challenges and allows us to deliver in shorter timeframes:
Reusability & Centralisation: Business users and consultants spend time not only creating visualisations but also updating them. Customers roll out their dashboards to a wide audience and many of the dashboard components are copied and reused. When a change is requested to, for example, a format or metric, time is spent going through each and every dashboard where the component is used. With Pyramid a central change is reflected everywhere a component is used.
Publication & Distribution: Pixel perfect placement, printing, layout of tabular reports, commentaries and automated distribution are gripes we often hear. With Pyramid these points have been addressed and what's more it can be configured quickly ensuring your management board packs or other critical publications are available.
Performance & Reliability: Query performance is critical; load and navigation times are key factors to adoption of dashboards or visualisation solutions. Pyramid's PYRANA engine addresses this concern by optimising query execution on any source. Pyramid has its own inbuilt in memory database for situations where sub-second response times are demanded by users.
Custom Visualisations: Whilst Pyramid has visualisations that address most needs, there are times when requests arise for a highly specific output. This is catered for in Pyramid via the illustrate module. Custom infographics that interact with data and context can be created in a few clicks. For the more complex requirements there is the option to create your own custom visualisations and interactions through the use of D3 JavaScript.
NLP Chatbot: Working with large datasets can be difficult. Knowing the dimensions and metrics to use leads to many clicks and this this can be unproductive. The NLP chatbot in Pyramid allows the user to have a conversation with the data. Ask the chatbot for example "Show me Sales and Revenue by Period for this Year" and results in a table are rendered with that information. Not happy with a table "Show me as a bar chart", job done!
Pyramid Analytics is highly performant, fast to implement and quicker to learn than other leading decision intelligence solutions. If you would like to find out more please do get in touch.
The Future of Business Intelligence
To understand the perspective of SAPinsiders, as far as building the future of BI capabilities and associated data tools goes, SAPinsider surveyed 139 members of our community in September and October of 2021. The research highlighted enhancing customer experience (58%), managing business complexities (38%), and competing with new entrants (36%) as the key business drivers.