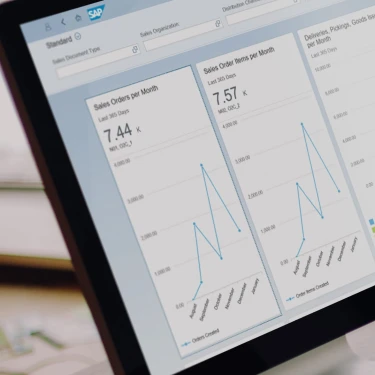 So what's really new – and what's in it for you?
SAP S/4HANA puts real-time data at your fingertips
Meeting the needs of today's markets requires swift handling of the ever-growing mountain of (un)structured data available. SAP S/4HANA integrates the super-fast analytics of HANA, enabling you to gather and process data quickly while applying it to your business processes, all in real time.
Your win: Gain real-time business insights, instantly
Embedded, real-time reporting, simplified processes and the lighting speed of HANA all help you gain new insights, anywhere and in real time – as a starting point for better decision-making, optimised processes and better services.
It truly is all about simple
The HANA in-memory platform ensures a simplified data model. Moreover, SAP S/4HANA is designed with the SAP Fiori UX, which makes it intuitive to use on any device. The complexity – ingenuity – is still there, but it's only shown when you want to see it.
Your win: Work faster, with more agility and cut your total cost of ownership
Your users can start working with SAP S/4HANA right away, with no training needed. The speed and real-time insights will foster flexibility and agility. And the IT team will welcome the time and costsavings they achieve thanks to the simplified architecture, smaller data footprint and out-of-the-box integration with solutions like SuccessFactors and Ariba.
Opening the door to innovation
At its core, SAP S/4HANA combines traditional ERP data with data from Internet of Things (IoT) applications, cloud applications such as Hybris or Ariba and other sources or networks. In this way, it opens the door to innovations like predictive maintenance, simulations, etc.
Your win: accelerate innovation to reinvent your business
SAP S/4 HANA helps you connect processes and integrates your company with the digital world at large. As such, it helps you reinvent your business: discover new opportunities, develop new business models, drive new revenues and win new markets.
SAP S/4HANA helps you connect processes and integrates your company with the digital world at large in order to help you reinvent your business
How can we help?
Based on our extensive knowledge and many years of experience with the SAP platform, Delaware can help you unlock the full value of SAP S/4HANA. In a first step, we will define your roadmap, determining how your company would benefit from S/4HANA, what features you need and whether you need an on-premise or a cloud rollout. We can then guide you through the entire migration process. Moreover, as we know SAP S/4HANA represents a shift in the way you do business, we'd be happy to aid you with change managementto foster user adoption.
Why choose delaware?
We offer a structured approach
We offer end-to-end solutions
We collaborate closely with your team
We have 15+ years of experience in SAP implementations in numerous industries