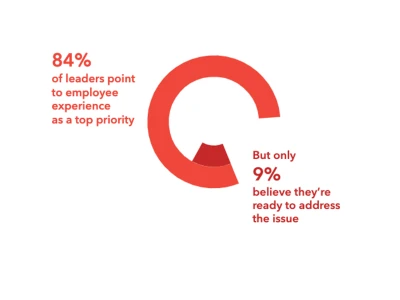 HR Challenges In The Energy Sector
20% of the current workforce will have left the industry by 2025 – Through natural attrition and retirement. At the same time the industry needs to attract 25,000 new people, many of these will be in jobs that currently don't exist; data science, automation, new materials.

Valuable insight and experience is being lost as employees leave the sector or retire.
Mind the gap between employer perception and employee reality: most leaders don't currently feel equipped to put employee experience at centre of your operations. Do you?

Tomorrow's energy workers will demand training and learning methods that don't follow the traditional listen and learn approach. Demand for formally structured 'nuggets' of learning, delivered through simulation and AR will become the norm.

The challenges many organisations face in day-to-day operations, restructures, acquisitions & mergers.
About SAP SuccessFactors Human Experience Management
Builds on the best of human capital management (HCM) - and goes further, creating truly dynamic, engaging, and employee-centric experiences.
A new way of delivering software: designed completely around what employees need, how they work, and what motivates them – and using this insight to make strategic decisions.
Lays foundation for a more sustainable culture of continuous improvement and growth, increasing employee engagement, integrating workforce planning with business strategy and driving company performance.
Helps businesses shift focus from traditional HR processes to an intelligent model, delivering an employee-first approach which will better serve your business.
Provides powerful solutions for core HR and payroll, talent management, employee experience management and people analytics to empower employees while enabling HR leaders to accelerate business growth.
An extensive, flexible architecture that streamlines and aligns data flow to help you plan and optimise your people strategies for competitive differentiation.
How HR For Energy Can Help Accelerate Your People Systems
Supports a continuous culture of exploration, growth, feedback and productivity
Facilitates an employee-first culture, putting employees at the centre of the design and delivery of the work experience
Delivers a personalised, relevant, easy to access (and consume) HR experience
Provides the resources, guidance and "nudges" to help employees explore and exploit opportunities, and thrive in their day-to-day activities
A modelling platform which designs and tests migration pathways to reduce risk, disruption and cost of eventual implementation
Enables organisations to refocus, offering rewarding career paths including career opportunities and continual development – instead of the traditional focus on competencies and skills
Helps organisations reposition or transition, pinpointing the talent you need if you are shifting focus - from fossil fuels to renewables, for example
Boosts retention by allowing leaders to combine employee experience and operational data, helping you to better listen to your people, understand how to improve their experience - and take action.
How Can We Help?
As a recognised SAP implementation partner, we are committed to helping you put your people at the heart of your organisation and future growth strategies. We have accrued extensive experience over decades of working with energy businesses, so we innately appreciate your specific people challenges and know exactly how to build the HR solutions you need.
Our approach looks at total workforce management. We understand that, to succeed, you are not just managing people into your business – you need to manage your talent throughout the full employee lifecycle.
We listen to your industry, and we want to be part of the transition and success in this exiting era of energy.
Support, through technology, the development of a joined-up approach to people & skills
Develop a 'digital passport' solution, not only to manage skills and compliance but as an extension into total workforce management, qualified, experienced, available, competent
Put employee experience at the heart of all design: better engagement leads to better employees and better retention
Mergers, Acquisitions and Restructures
Fully automated organisational charting with no manual work required
Visualise key metrics in various forms; Org Chart, dashboard, 'Big Data' graphics
Use data visualisations to analyse your organisational structures and its effectiveness
Process and FTE allocation and modelling, what-if scenarios and workforce modelling