Information is the lifeblood of any organisation
The most valuable resource of any organization has always been information. Effective processes, efficient and well-informed employees, positive customer experiences, regulatory compliance, risk mitigation and sharp strategic decisions. Each of these business-critical pillars hinge on a simple key requirement: the right information with the right person at the right time.
However, in today's business world, not only is the amount of information expanding exponentially. The different types, both structured and unstructured, are increasing at a rapid pace as well. Not to mention the fragmentation and degree of connection between all these varied information types. Societal trends such as remote working and stricter regulatory frameworks are also raising the stakes for seamless information flows with suppliers, customers and employees. To top it off, companies are moving from monolithic systems to composable ERP environments, which only increases the importance of effective information flows. More than ever, information is the glue that holds everything together.
Discover how you can create more value with your information.
Bring documents such as e-mails, pictures and drawings together with available information systems. For example: ERP, CRM or HRM  
We bring structure to fragmented information, make it accessible, manage it and help companies leverage it.
Three distinctive qualities allow delaware to deliver
an end-to-end offering, developed in close collaboration with other delaware domains. By combining in-depth business knowledge with expertise in ERP and digital, we guide customers to operational excellence and seamless information management: the indispensable conditions to be ready for industry 4.0 and the evolution towards composable ERP systems.
a proven methodology, bolstered by extensive industry knowledge and tailored to your specific situation, back by accelerators and broad how-to knowledge

the perfect scale: big enough to deliver end-to-end solutions, and accessible enough to fully commit to your cause and work in close collaboration with your team.
Moreover, as part of global consulting firm delaware, we tap into an ever-extending range of technical expertise and business experience. And while we insist on the essentiality of getting the basics right, we're also first movers in terms of innovation.
Streamlining business processes and turning information into value requires technical expertise and an in-depth understanding of your organization. Even more importantly, it requires trust and close collaboration.
At delaware we focus on establishing long-term partnerships marked by mutual respect, a shared language, and commitment to a shared goal. With delaware Operations, you're taking on board a skilled expert, as well as a hands-on and pro-active advisor, who thinks along and is in it for the long haul.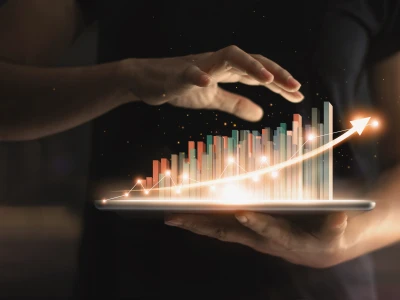 We increase your return on information
We are information value creators. By combining multiple sources and by linking core processes to information, we bring structure to fragmented information. We make it accessible, manage it and help you leverage it. In this way, we build a system that you can trust, so that you'll maximize the impact of your company information and reap all the benefits that solid Enterprise Information Management has to offer.
 After all, Enterprise Information Management does not end with smooth information flows. Quite the contrary: it provides the indispensable foundation to exploit further accelerations. Effective Enterprise Information Management brings new efficiency gains and insights to light, enables the holistic management of content and data, kickstarts automation projects and makes the step to digital transformation and data-driven operations a whole lot easier.